ReShape/International HIV Partnerships
Mutual Mentoring
Movement Building
Health for All
The Chemsex Forum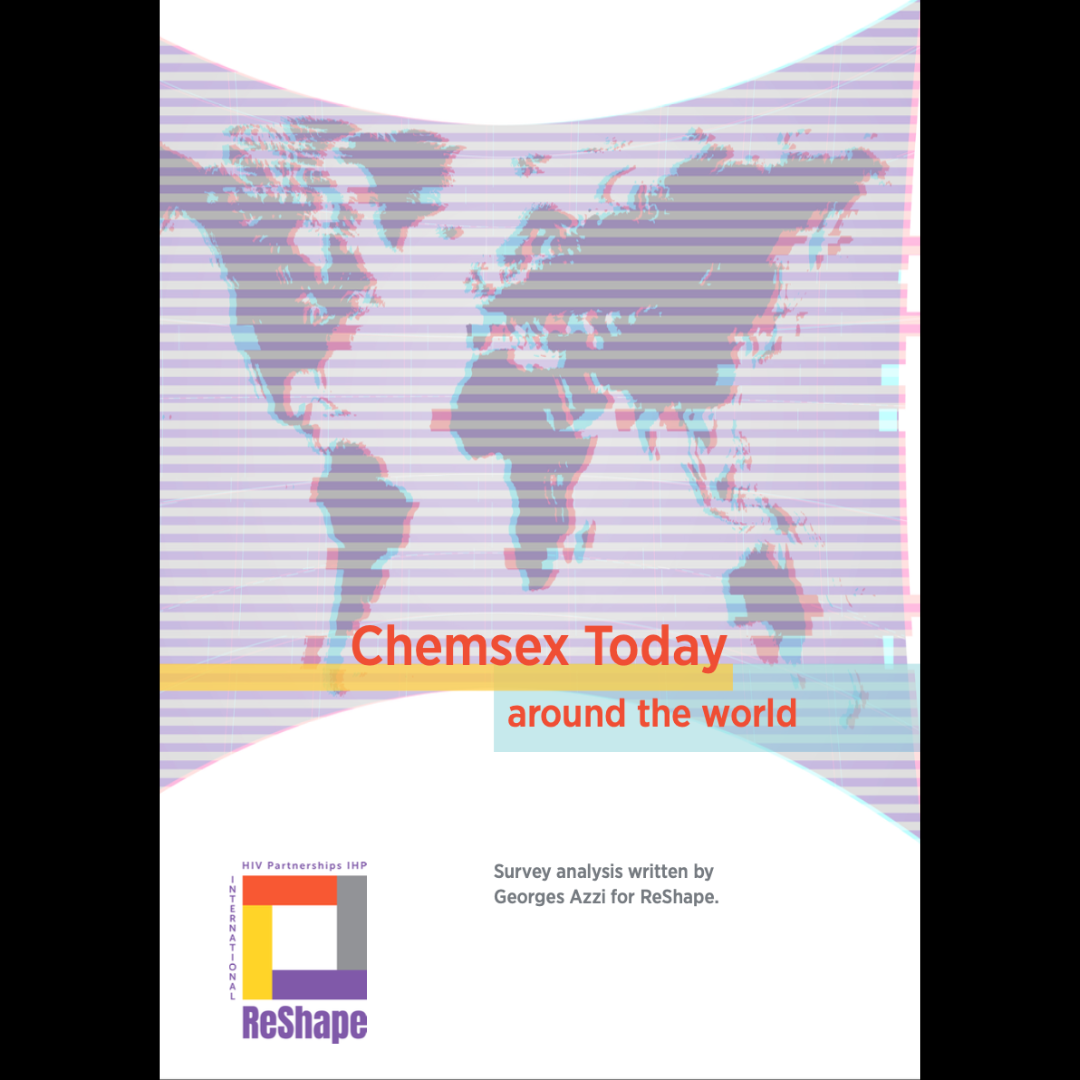 Chemsex Today around the world – Survey analysis
2023
 We are pleased to share with you the analysis of a recent survey, "Chemsex Today around the world",  developed and distributed by ReShape with an international group of chemsex responders, and analysed by our colleague, Georges Azzi. Four hundred people responded from all regions. We set out to reach people who engage in chemsex and chemsex responders in areas newer to chemsex, specifically Africa, the Middle East and Latin America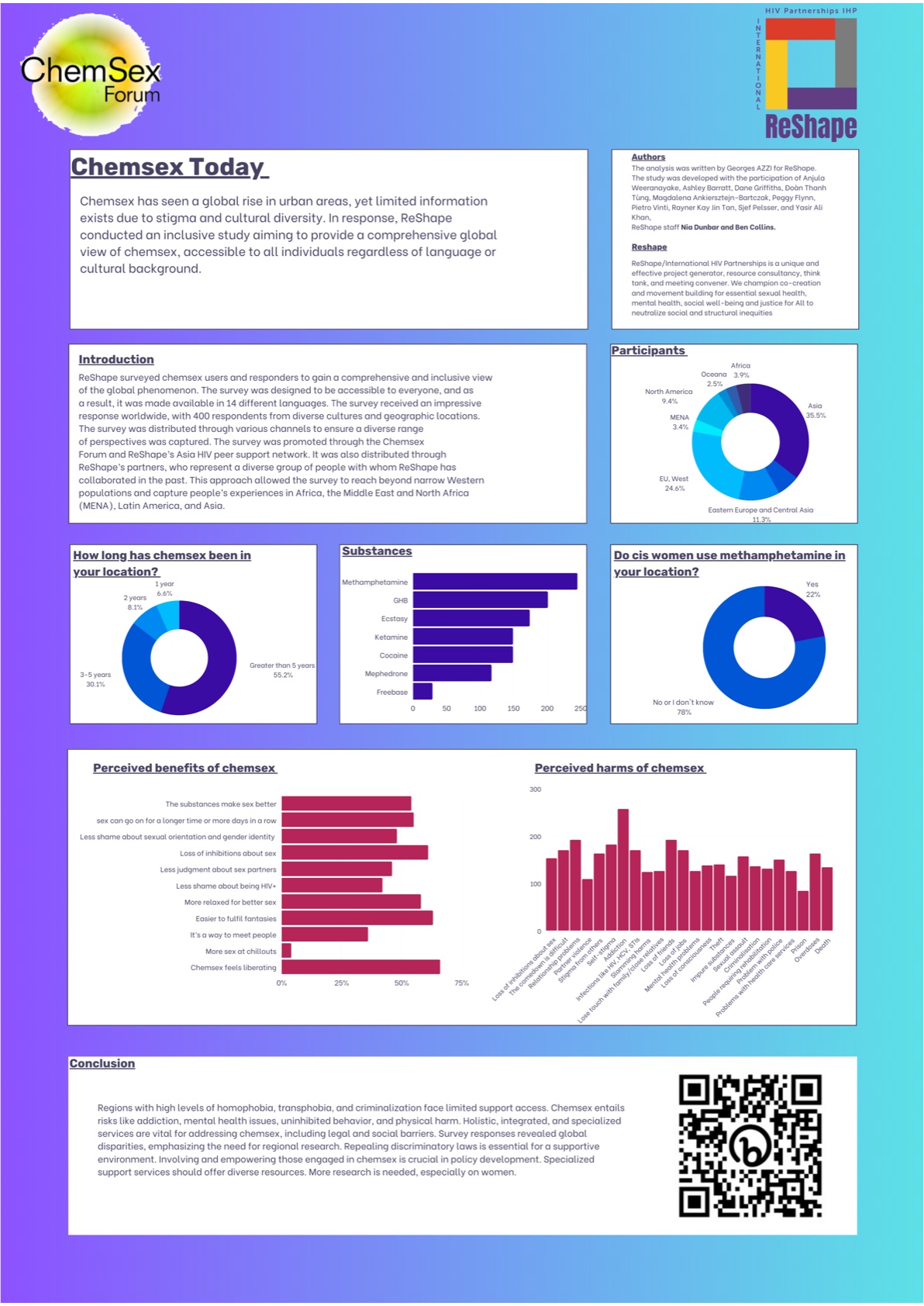 Aids Impact, Sweden
2023
Ben Collins and Nia Dunbar (ReShape) presented a poster presentation at Aids Impact on the survey analysis report "Chemsex Today" written by Georges Azzi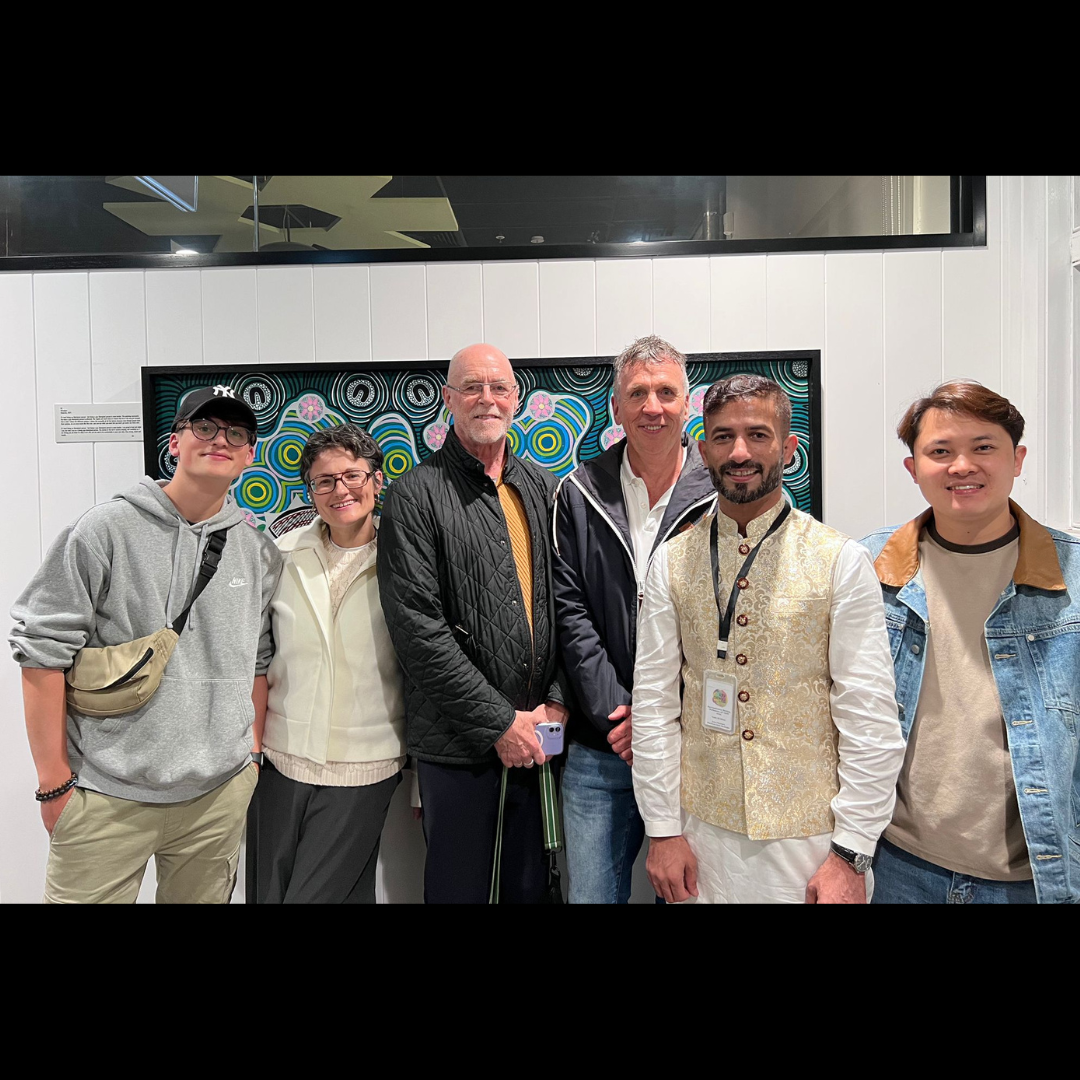 ReShape led workshop at HRI in Melbourne
2023
This workshop was a harmonised platform linking people working on Chemsex from different countries, regions, and backgrounds. It highlighted the strengths and learnings from existing projects. It  encouraged solidarity, knowledge and experience sharing, and networking amongst participants for smarter integration in services addressing the needs and hopes of people engaging in and/or recovering from chemsex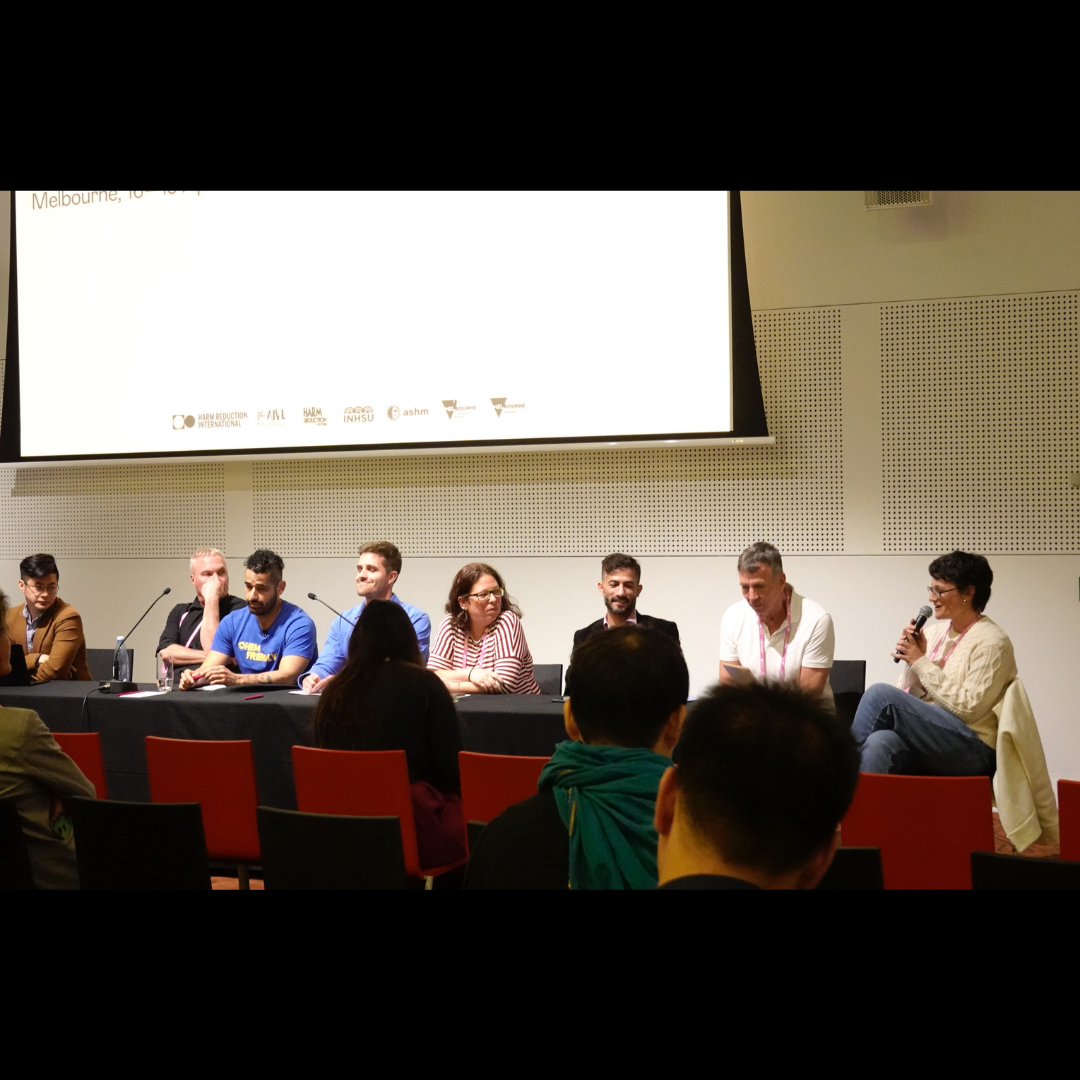 Chairing the Chemsex Around the World session at HRI Melbourne
2023
Nia Dunbar and Sjef Pelsser (Mainline) chaired the "Chemsex around the world" session at the Harm Reduction International conference in Melbourne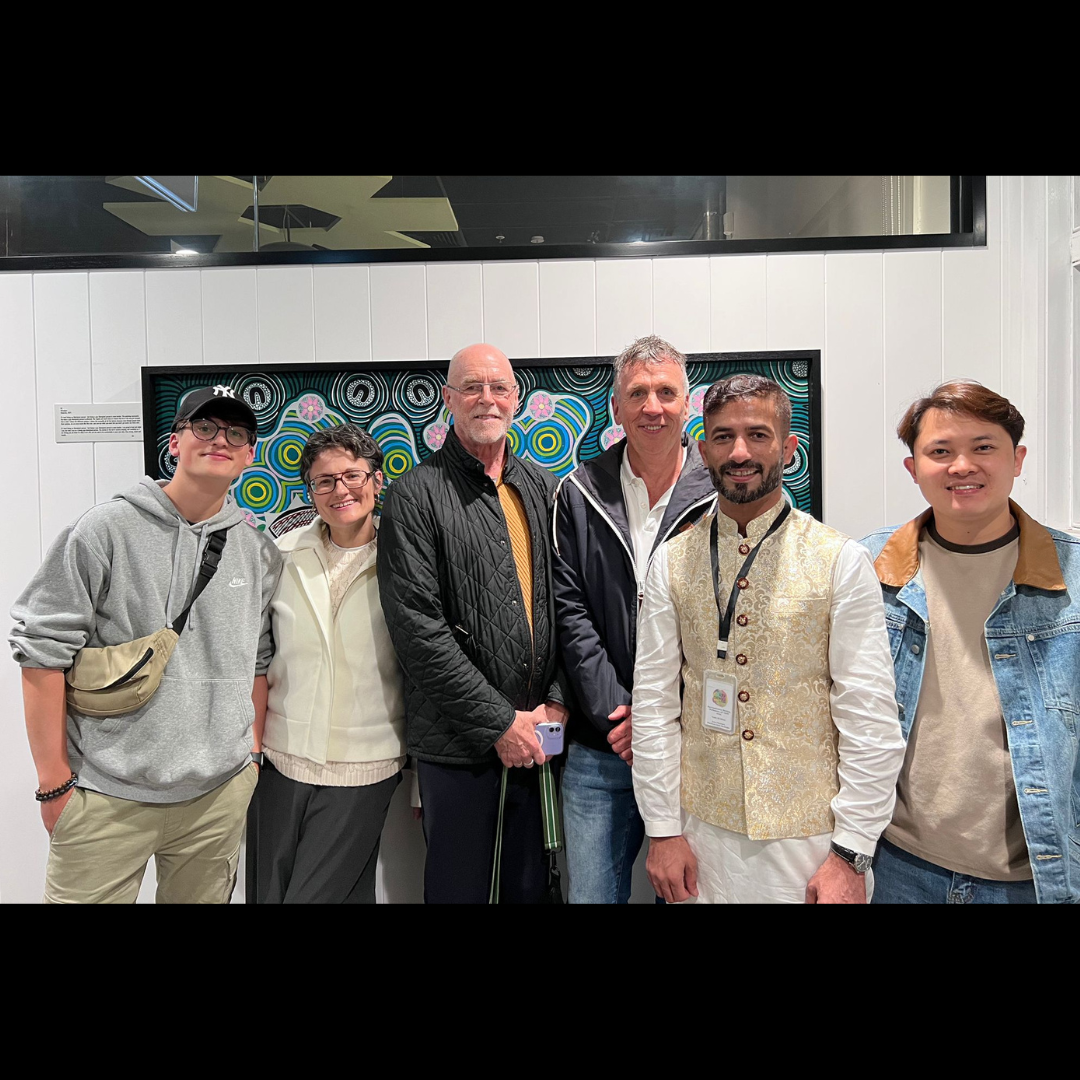 Asia Chemsex Platform Meeting
2023
Organised by Yasir Ali Khan and Doan Thanh Tung, this meeting took place in Melbourne and brought together lots of Asian activists and researchers both online and in person to discuss the growing crisis that is chemsex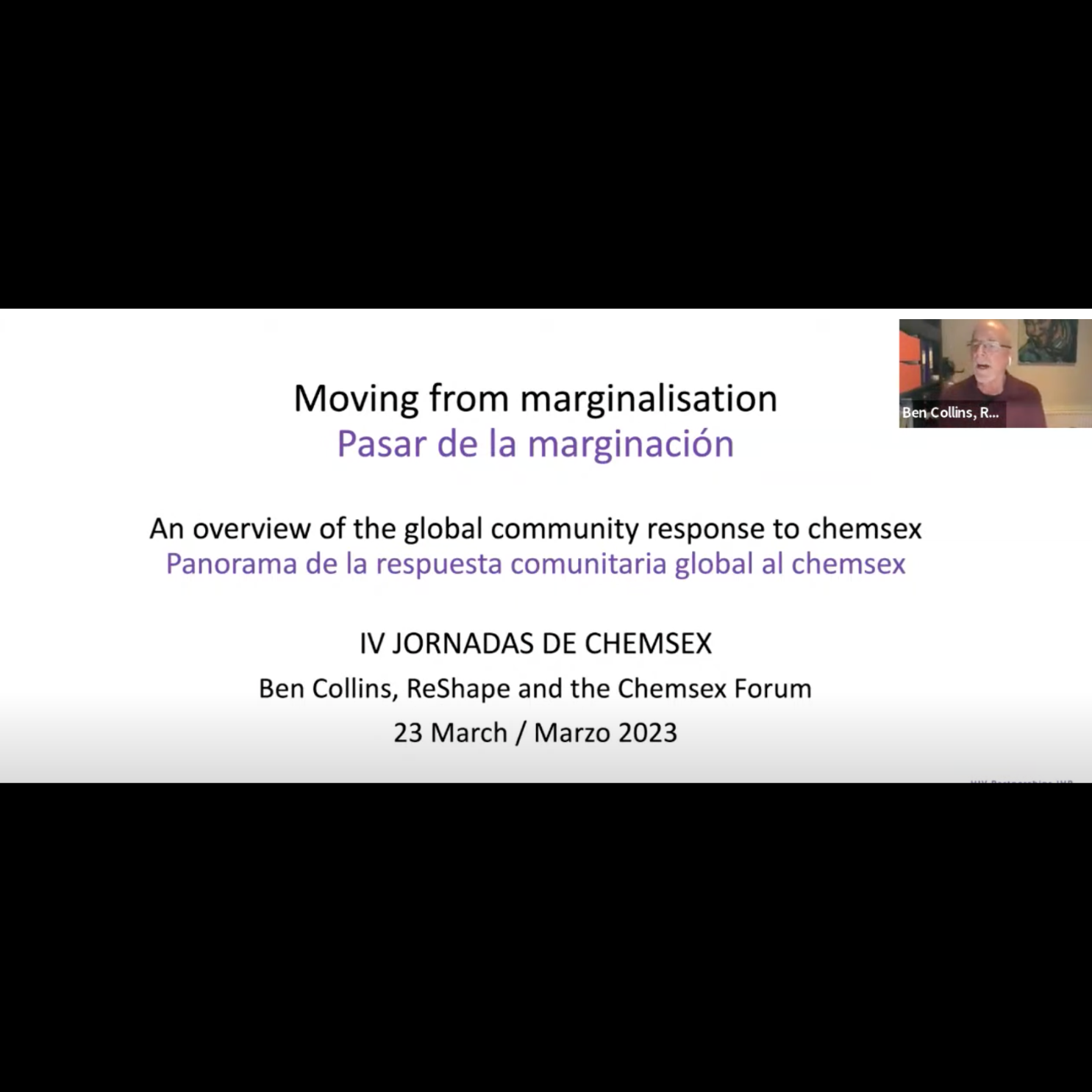 IV Chemsex Journeys: A Global Approach  – A webinar hosted by STOP.
Virtual 2023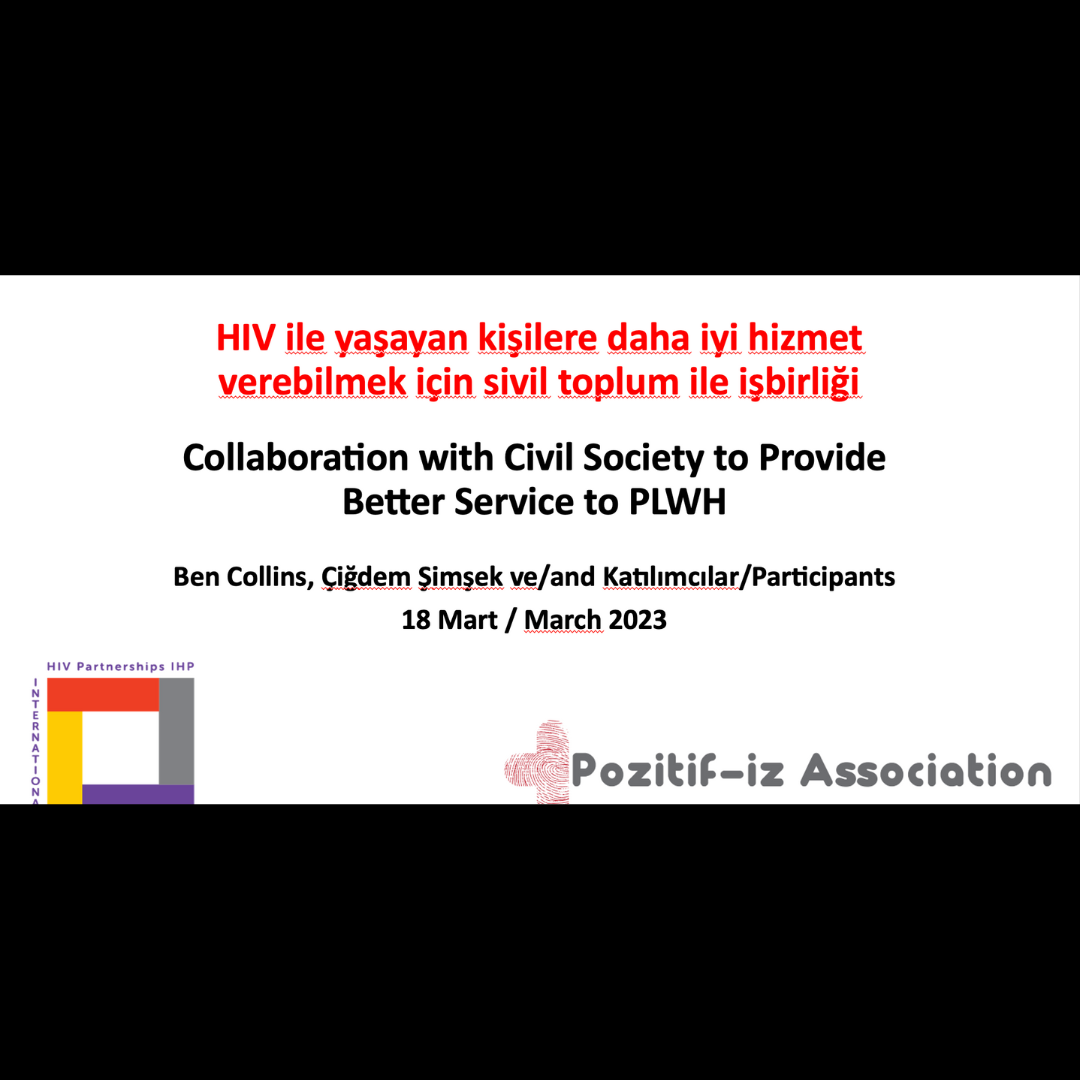 Collaboration with civil society to provide better service to PLWH
Virtual 2023
Integrated Chemsex Support
Virtual 2022
Why do we need integrated Chemsex/High Fun/PnP support services?
Part of the Where's the Hope? Dialogues for Solidarity Series– 2022-2023
Three online sessions – on 29 November, 6 December and 13 December 2022 at 15:00/3 pm GMT to identify chemsex support options and produce and promote a call for integrated chemsex support services appropriate for your region.
The Integrated Chemsex Support Survey
Online Survey 2022
This survey is about chemsex and chemsex support in your location
Still open*
BASHH Annual Conference
Sheffield 2022
Ben Collins & Nia Dunbar (ReShape) with Sjef Pelsser (Mainline) presenting at BASHH annual conference.
The British Association for Sexual Health & HIV celebrating 100 years 1922-2022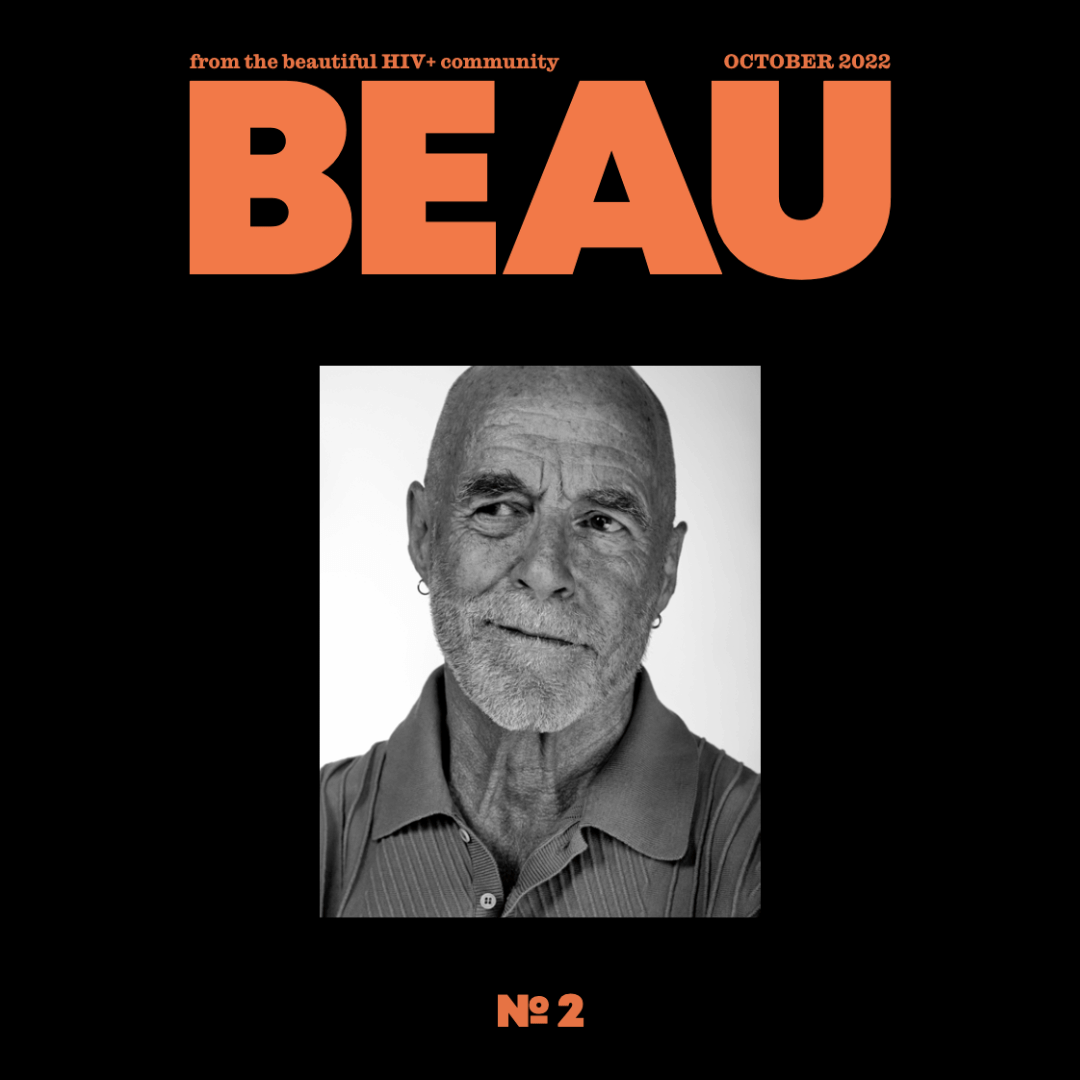 BEAU Article
2022
Ben Collins was the cover story of BEAU Magazine No.2 and a guest writer
International Chemsex Symposium
2022
ReShape participated in developing the programme and served as a discussant at the International Chemsex Symposium (ICS) in Montreal
Chemsex Forum Platform
Virtual 2022
We are so excited to announce that we have hired a community coordinator for the chemsex forum platform.  Forum members will be sent details of new updates to the library soon.  If you would like to join the platform, post an email to: main+subscribe@ChemSex.groups.io. follow directions from there
Talking Sex in Asia: A Co-designed Toolbox
Virtual 2022
This toolbox is co-designed with the participants of Talking Sex In Asia, Session 8 in the Asia HIV Peer Support series
Talking Sex in Asia
Virtual 2022
Our first session as part of the Asian HIV Peer Support series of 2022 in collaboration with The GreenHouse
Asian HIV Peer Support Series 2021 Report
The 2021 report of the Asian HIV Peer Support Series
35th Annual Meeting of the Japanese Society for AIDS Research
Virtual 2021
ReShape and Dr Hideta Nakamura's Asian HIV Peer Support series presented U=U in Asia with leading Asian and Western U=U organisers
5th European Harm Reduction Conference
Prague 2021
ReShape, as the European Chemsex Forum's secretariat hosted a panel on Chemsex Challenges: Slamming, Community Stigma and Human Rights
With Leon Knoops (Mainline, The Netherlands), Jasper Janssens (Free Clinic, Belgium) and Igor Medvid (HBLGBT, Ukraine)
An evening with Angela Davis
Gregorio Millett – Casualties on the road to ending HIV
Claudia Estcourt – Prevention is hard: combination prevention is key